What is an interventionist? Most people know about the A & E show "Intervention" so they have seen one approach. But the show's model and style is one amongst many different approaches to interventions, and every model's efficacy depends on the interventionist's preparation, flexibility, and communications. So, what does it mean to supervise an intervention, and to be an interventionist? Fortunately, there are clear, recognized best practices for professional interventions, despite plenty of nuance in the actual processes.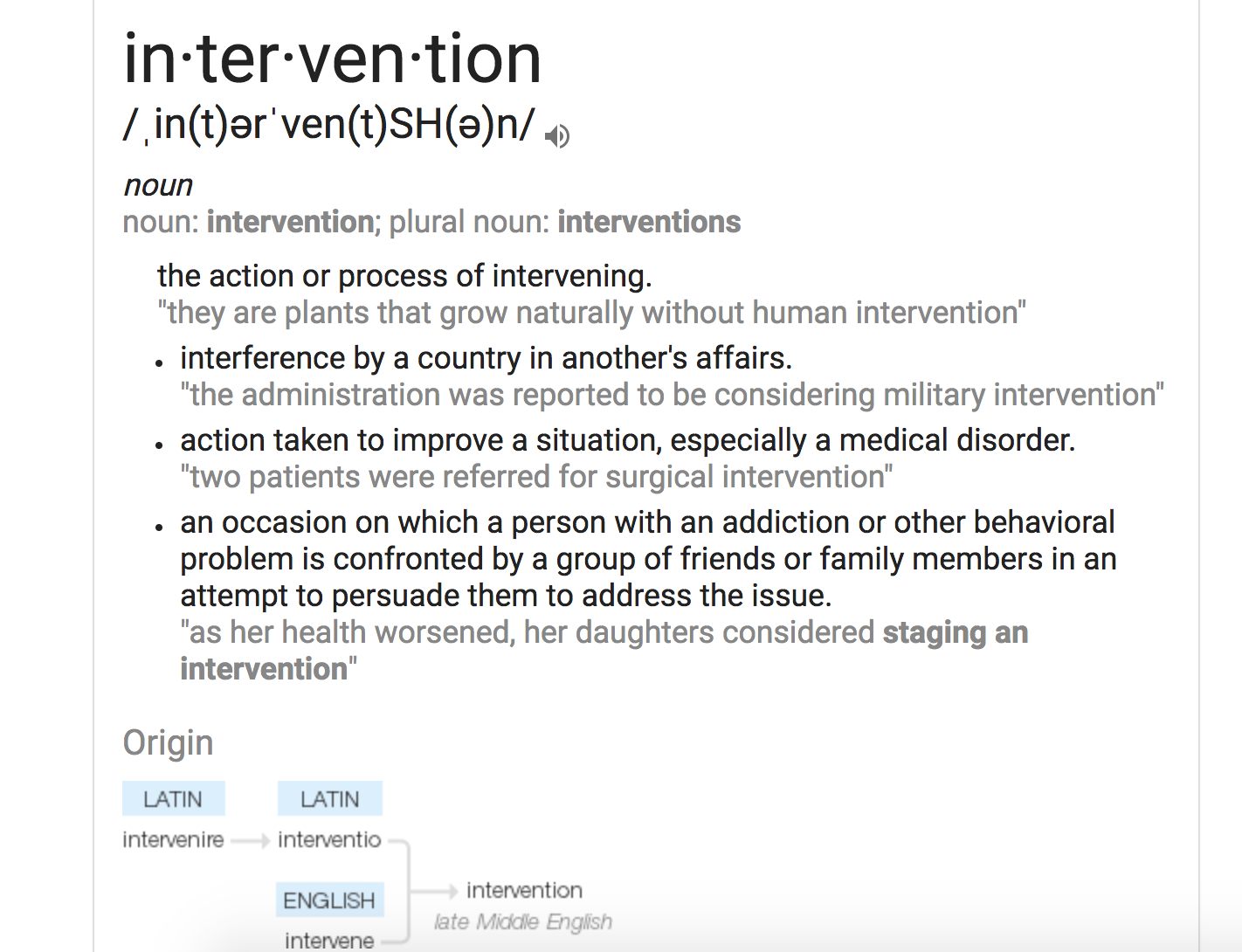 The Network of Independent Interventionists (NII) requires their members to have their master's degree or above; does this mean that only interventionists who have masters' degrees are qualified for you to work with? Truthfully, that is your choice. There are many interventionists who have learned their craft from working in treatment centers, through the work of their own sobriety and/or years of professional experience. I know some of these interventionists and they are good, really good.
I was never an interventionist but thought that if I was still placing clients in treatment programs, I would get trained to be an Arise Interventionist, one approach to interventions that involve a family system approach. The reason for this is the model requires a process, and it is intentionally not an event. (If you are interested in learning the history of interventions, read this blog by Adam McLean, MA)
I canvassed several interventionists, professionals, and admissions professionals who deal with and know this side of the world. A good interventionist has the following:
Professional understanding of the disease of addiction and when a particular treatment center or approach to treatment will work over another. And can articulate why, specifically.
Understands when detox is needed and how long, for a particular substance.
Puts the client's needs before the wants and needs of the family (who might be paying the bills). This means the interventionist is direct and honest.
Does not refer to only one model/type of treatment program as assessment. (Personalized.Individualized.)
Respects the financial needs of the client to ensure that their referral path is comprehensive and will lead to a recovery process.
Has a clear and explicable understanding of the differences between process addictions vs. substance addiction vs. mental health diagnoses. Because once the presenting issue is managed within the process of recovery, any underlying chronic or severe mental health disorder will become more apparent. This could mean bipolar disorder, trauma, sexual abuse history, personality disorder, cutting, schizophrenia.
Clear ethical boundaries – that is, does not receive money or rewards from any treatment provider.
Visits and knows intimately more than three (3) treatment centers or approaches. This means that professional interventionists visit and refer clients to treatment centers that are individualized for the present client and appropriate for their particular mental health challenges.
Understands their own skillset and exhibits the integrity to refer out, or work collaboratively with other professionals, when a client is outside of that skill set.
Will transport a client directly to a treatment provider and provide case management throughout the placement process.
The key is to ask questions of different professionals You need to clearly understand what the expectations are and the long-term healthier results from the short-term discomfort ahead.. It is advisable to call several professionals and check in with what your family system needs as an intervention.
About the Author
Jenney Wilder M.S.Ed launched All Kinds of Therapy in 2015, as the only independent online directory for the Family Choice Behavioral Healthcare Industry. With an impressive case of ADHD and her starter career in the 90's in Silicon Valley, the dream for creating a website with features like side-by-side comparison and an integrated newsletter was born. Jenney stopped counting treatment centers and all types of schools that she has visited when she hit 500 many years ago. She was the sponsoring author of the only Economic Impact Study of the Family Choice Behavioral Healthcare Industry, which revealed the only true financial figures about this industry (in Utah). Jenney has a Masters in Special Education from Bank Street College (NY) and a Bachelors of Arts focused on History from Wheaton College (MA).