There is a lot of jargon when a parent begins to investigate Substance Abuse treatment and addictive behaviors for their teen or young adult. This blog is co-written with Lilley Consulting and Prepare to Bloom, as we are Therapeutic Consultants who vet quality substance abuse treatment programs for our clients. Using the continuum of care created by ASAM and using the DSM 5* criteria, not only is there a wonderful graphic, but it creates the framework that reputable treatment programs and admissions professions will assess when parents or young adults are speaking about enrollment.
*The 5th edition of the DSM 5 was published in 2013 and it began in 1952. The DSM now breaks down under the label as Substance-Related and Addictive Disorders with 11 criteria.
Mild: 2 or 3 criteria out of 11
Moderate: 4 or 5 criteria out of 11
Severe: 6 or more criteria out of 11
Referring professionals known as an interventionist, Therapeutic Consultant, or Treatment Consultant that you may hire or a referring clinician who gave your child the assessment must know the fluid continuum of care created by the American Society of Addiction Medicine (ASAM) and will guide you through the why a particular recommendation is being offered and the nuances of those recommendations.
EARLY INTERVENTION FOR ADULTS AND TEENS
ASAM has a first level of .5 that is for those that for whatever reason are at risk for developing a substance-related problem.
Assessment
One-time Outpatient assessment through a licensed clinician — for teens, the family and teenager are there together to assess how acute the situation is.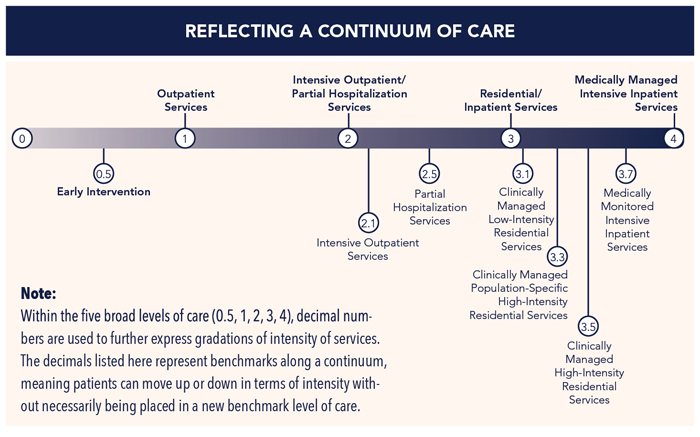 OUTPATIENT THERAPY | OUTPATIENT SERVICES (Level 1 ASAM)
A licensed clinician who specializes in addiction and recovery is the key figure. It Is paramount to have teens and young adults try this step first. Using the 6 Stages of Change to provide a backdrop, this level encompasses people who are in pre-contemplation or contemplation phases. The young person does not have to be ready, just open to therapy and inquisitive. This is a non-confrontational approach, and a technique called motivational interviewing (MI) might be used by the therapist.
INTENSIVE OUTPATIENT SERVICES (IOP) | PARTIAL HOSPITALIZATION PROGRAM (PHP) (Level 2 ASAM)
IOP: Many insurance companies have these programs and they can be paid for privately. Generally, it is 9 hours a week of varying services, 3 days a week, 3 hours a day. The timing of the services that an IOP can offer varies on the program – morning, afternoon, evening, weekends are all options depending on the provider.
PHP: Generally, these programs are based out of a hospital or attached to a primary treatment center and are 8 am – 3 pm five days a week, for around three weeks. The key to this level of care is that there are varying types of group and individual treatment and the client does not require 24-hour care. If this level of treatment is not enough, a recommendation for residential treatment will follow.
RESIDENTIAL | INPATIENT SERVICES (Level 3 ASAM)
Sober Living
ASAM refers to this as clinical managed low-intensity residential services Level 3.1. There are different levels of Sober Living. Some have support and others do not. It is important to understand that not all sober livings are created equal. For the purposes of this blog, this is "Clinically Managed Low-Intensity Residential Services." Most of the advertisers on this website who list in the "Sober Living" section fall into this. This is NOT the level of care that you read about in CA and FL with fly-by-night sober living programs. Instead, this has 24-hour living support with trained personnel, and at least 5 hours of clinical support a week (group and individual). Like all the other levels of care, a sober living program addiction treatment, mental health, and general medical personnel provide a range of services in 24-hour living support. DO YOUR RESEARCH.
Some are affiliated with an IOP & PHP, while others refer to non-affiliated IOP & PHP programming
Monitoring of sobriety & recovery
Highly Structured
Young Adult sober living advertisers are not separated by levels.
Teen sober living advertisers are listed under transitional living. 
RESIDENTIAL "PRIMARY" Treatment (Level 3.3 ASAM)
This level is what ASAM level 3.3 labels this, 'Clinically Managed Population-Specific High-Intensity Residential Services', this level of care typically offers 24-hour care with trained clinicians to stabilize multidimensional imminent danger along with less intense milieu and group treatment for those with cognitive or other impairments unable to use full active milieu or therapeutic community.
30 – 40 hours of clinical services a week
High staffing ratios
24/7 operation
Acute Hospitalization
Patients who are in this level of care can go from this level to varying lower levels of care, based on the teen or young adult's buy-in to where they are (see the 6 Stages of Change). DETOX is a step in a process and a solution.
ASAM describes this level as, "Medically Monitored High-Intensity Inpatient Services' for adolescents and Medically Monitored Intensive Inpatient Services Withdrawal Management for adults, this level of care provides 24-hour nursing care with a physician's availability. Patients in this level of care require medication and have a recent history of withdrawal management at a less intensive level of care, marked by past and current inability to complete withdrawal management and enter into continuing addiction treatment. This is the appropriate setting for patients with subacute biomedical and emotional, behavioral, or cognitive problems that are so severe that they require inpatient treatment" (at this time). This level of care is typically anywhere from 3 days to 7 days. The moment a patient admits to this level of care, professionals are anticipating the clinical recommendation for inpatient and/or residential treatment.
Level 3 encompasses residential services that are described as co-occurring capable, co-occurring enhanced, and complexity capable services, which are staffed by designated addiction treatment, mental health, and general medical personnel who provide a range of services in a 24-hour treatment setting. A detailed description of the services typically offered in this level of care, the care setting, and how to identify what patients would benefit best from these services based on an ASAM dimensional needs assessment, begins on page 265 of The ASAM Criteria: Treatment Criteria for Addictive, Substance-Related, and Co-Occurring Conditions (2013).
Medically Managed Intensive Inpatient Services for adolescents and adults, this level of care offers 24-hour nursing care and daily physician care for severe, unstable problems in ASAM Dimensions 1, 2 or 3. Counseling is available 16 hours a day to engage patients in treatment. A detailed description of the services typically offered in this level of care, the care setting and how to identify what patients would benefit best from these services based on an ASAM dimensional needs assessment begins on page 280 of The ASAM Criteria: Treatment Criteria for Addictive, Substance-Related, and Co-Occurring Conditions (2013).
To summarize, the continuum of addiction and mental health treatment is complex. If you are looking for local care for your adolescent or young adult, do not strictly use what's in-network with your insurance or where your neighbor's child went. We need to be more intentional, more research, and more understanding of what is the appropriate level of treatment and also which treatment program is licensed, ethical, and client-centered.
If you still have questions SAMHSA's National Helpline, 1-800-662-HELP (4357), (also known as the Treatment Referral Routing Service) or TTY: 1-800-487-4889 is a confidential, free, 24-hour-a-day, 365-day-a-year, information service, in English and Spanish, for individuals and family members facing mental and/or substance use disorders. This service provides referrals to local treatment facilities, support groups, and community-based organizations. Callers can also order free publications and other information.
Additional reading: Learn how to navigate the costs and insurance aspects of IOP programs
About the Authors
Joanna Lilley, MA, NCC, is a Therapeutic Educational Consultant and Therapeutic Gap Year Consultant at Lilley Consulting, and Host of the Success is Subjective Podcast. Joanna received her Master's in Counseling from West Virginia University. She specializes in helping young adults and families during the most important time in adulthood. She proactively supports young adults with mental health or addiction history who are launching into the collegiate world or reactively provides support when the young adult launches and unravels. Joanna feels strongly about there being no single path to success when launching into adulthood. Outside of work, you can find her paddleboarding or hiking with her canine Office Manager, Luna and Assistant Officer Manager, Griff.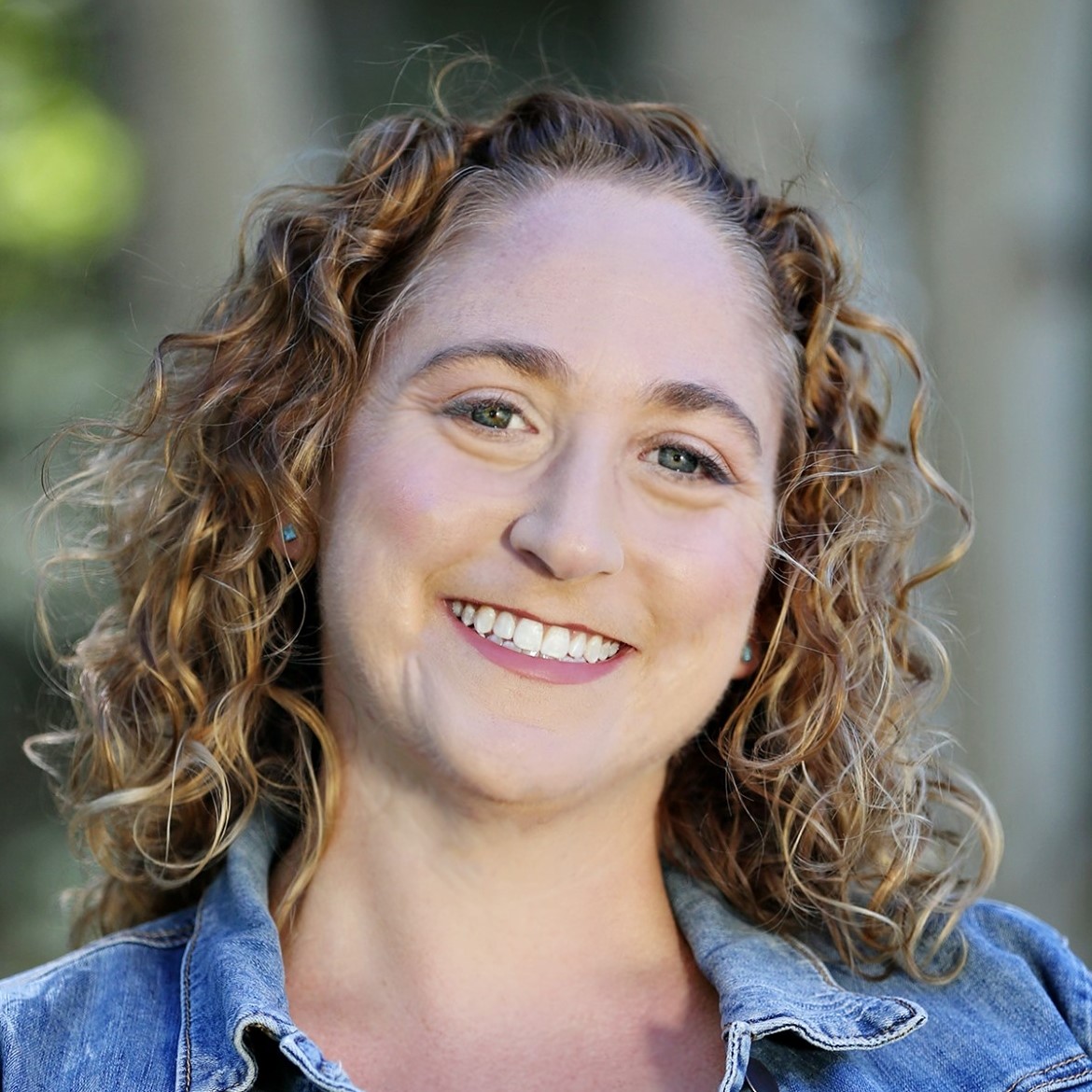 Shayna Abraham, M.A., CEP (Certified Educational Planner), Treatment Placement Consultant, founder of Prepare To Bloom Consulting and the co-founder or the Therapeutic Consulting Association (TCA). Over the past 20 years, she has worked with children, adolescents, young adults and their families to find the most appropriate schools and programs to help support their needs. She has specialized training in working with substance use disorders, eating disorders, the gender spectrum and the autism spectrum. She is passionate about the work she does. When not working she can be found traveling the world taking cooking classes.