(Note to our readers: This is the ninth blog in a series written by a parent who has placed a child in residential treatment.)
My child leaves clues. Being their* mother has always required a bit of a scavenger hunt. I watch to see what attracts them. I scour pages of their writing, determined to decipher their thoughts. I review notebooks they've filled with near obsession. I am sure that I'm only privy to the very tip, to the edge of exposure. My child is a canyon. A deep ravine filled with shining gems and treacherous depths. This is how it has always been. So much more than is seen.
We're in a bad spot now. It's a pattern that I am familiar with. I recognize the contours and curves and I know where we are headed. The details almost don't matter. You might think that all these times down the chute I would have built a better rope. I've woven one to pull my child up, the best I can, but after every pull I still lie weary, heartbroken, with muscles sore for days afterwards.
The therapist begins our session privately, as she always does. She explains that what we had thought was bravado for months, merely posturing and provocation, is true. This week my child sat down and opened up their email account which has laid untouched for the year they have been away. They disclosed sexually solicitous messages that were sent, received and then acted on. With dozens of men. Of a frightening range of ages. In random places in New York City. My 15 year old.
I feel my heart beating as the information is shared. It's the kick of adrenaline that hits my head when my child is in danger. I buckle up. I ask questions. I trust the professionals. I take steps, one at a time.
 How do we check for every health risk possible?
 Who are these people?
 How can I stop their behavior with other teens?
These questions come first. Then the next round. More complicated and obtuse.
 What drives a child to such risky behavior?
 How did I miss the signs?
 What are the implications for therapy?
 What does this mean for future behavior?
We get through as much as we can and then my child enters the room. They are unaware I've been told about their sexual behavior. We address what is on hand.
The day before I received a call from the residential center. This is an almost unheard of occurrence. I'm told that my child has disobeyed rules and gotten so angry that they physically lunged at a staff member. Then, they turned around and went directly into victim mode. This is typical. My child begins our conversation here. It's loud. The tears are plentiful. They are full of despair. I spend the next hour listening, hard, for the messages that they are willing to share.
"Everyone here hates me. I can't do anything right. I have to get out of here. You have to sue this place. It's not what it seems."
These are comments that I've heard before. In previous instances when a particular situation has gotten to be too much. No one ever understands. It's always someone else's fault. My child moves directly to seeing themself as innocent and misinterpreted. Never responsible. It's a hard way to live.
I validate them the best I can. I say again and again that how they feel makes sense. I nudge, and gently say that this feels like a pattern. Like the darkness of depression has rolled in again and that the hopelessness is true, and has been seen before. Every now and again my child cracks.
They read a passage that they've written. They are calm in the reading. They are saying something to me but it's only a crumb. I don't have their words to read and interpret again. I can only listen as carefully as possible, in this intense moment.
Back to tears.
"I'll never get out of here. I'm the oldest one here. I am not making any progress. I will never be okay." It's dark again, but we are getting closer to the emotional truths that fuel this behavior.
They read another passage: "My own brain is to me the most unaccountable of machinery — always buzzing, humming, soaring roaring diving, and then bringing in mud. And why? What's this passion for?"
I suck in my breath. "Did you write that?" I ask. "When?"
"No, that one is not mine." The reply, staying calm. "It's from All the Bright Places. You should read it."
By the end of the hour I've gotten my child a tiptoe closer to the surface. I've tried to help them see that this pattern is part of what brought them to residential treatment. The knots they tie themselves in to avoid self-reflection on the inevitable mistakes made – through emotional dysregulation, through immaturity, through depression.
We come to a shaky, but more solid ground. They come up for air enough to tell me about some tiny things. They are playing guitar. They have read every book in the house. They are trying not to self-harm. They love me.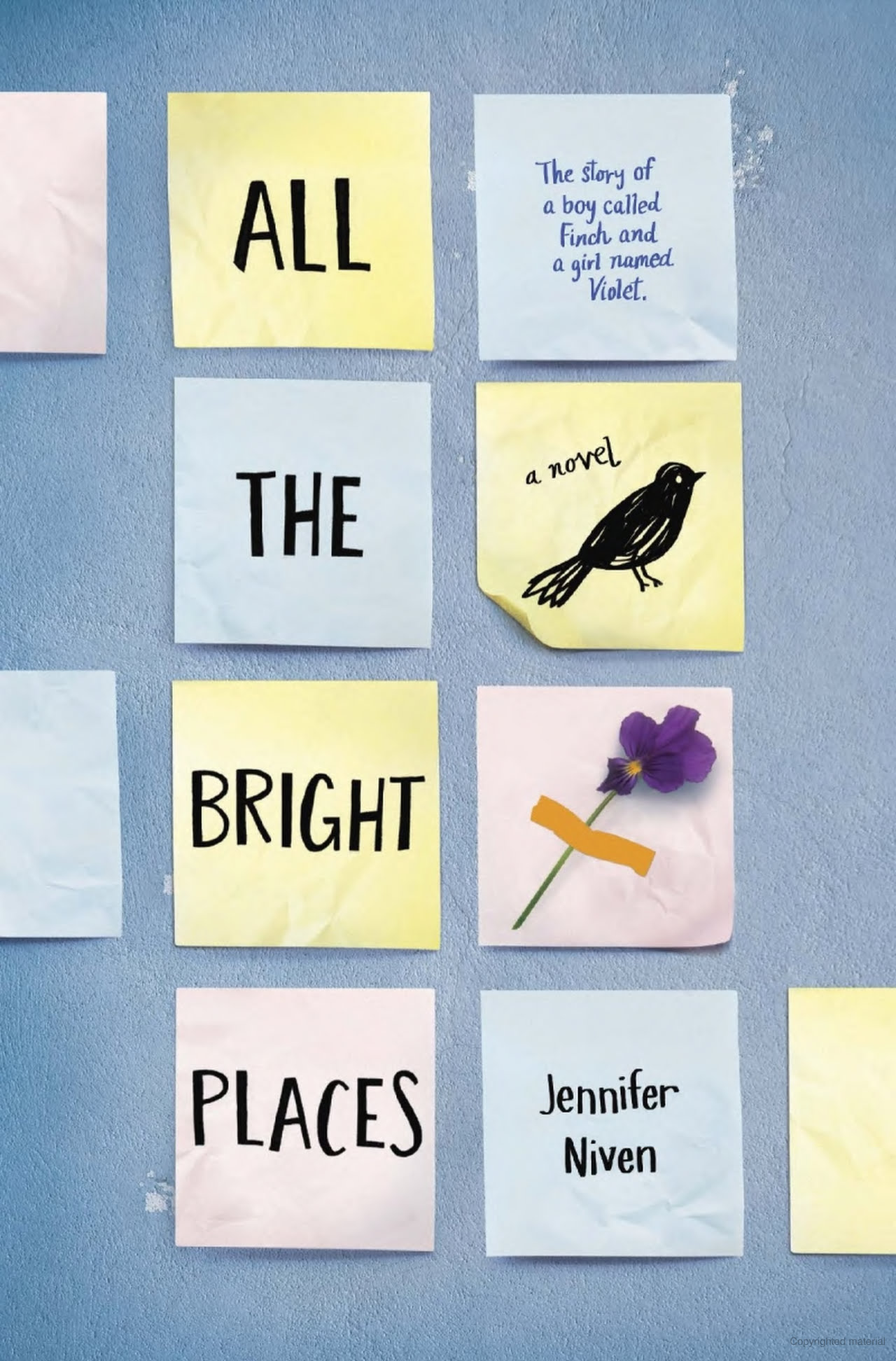 The next day, my friend purchases All the Bright Places for me. I dive in. Looking for clues, again. What is it in this book that will help me understand my child? What can I glean from the story? How can I help?
I enter the story of a character who is brilliant and magnificent both in his angling towards self-destruction and attempts to pull himself out. He shines in his fierce self-protection and care for the few others whom he has let in. His voice resonates with the sincerity of a teen, who has gained clarity through some hard lessons about the way the world works. Too much, too soon. I love him immediately, and recognize him. He has the double edge of intense love and impossible darkness.
He is honest about his internal demons.
He counts the days he can manage his intrusive thoughts and stay in the state he names The Awake.
He says things I imagine resonate with my child.
About the way his reality is theirs — "Sometimes… things feel true to us even if they are not." (p.195)
About the truth of who they want to be — "…a hundred different people, most of them flawed and stupid, part asshole, part screwup, part freak, a boy who wants to be easy for the folks around him so that he doesn't worry them and, most of all, easy for himself. A boy who belongs — here in the world, here in his own skin." (p. 203)
About the loneliness they feel — " Actually I am, which is part of the problem; we are all alone, trapped in these bodies and our own minds, and whatever company we have in this life is only fleeting and superficial." (p.272)
Early in the book I am sure I'll lose this character. His brightness and intensity will be too much for him to handle. He will not trust enough. He will be too alone. Is this the message? That this pain is too much? How can I protect my child?
I've read almost the entire book before my child talks to me on their social call a few days later. They pick up where most of our conversation left off on Wednesday. They are targeted. No one ever knows the truth. They are always blamed. Please save them. My tactics are not as strong in this conversation. I fail to connect.
I try. "This sounds so very hard. It sounds like your therapist is the one to talk to about this. You are in a place where you can develop new strategies. This sounds so painful."
The response comes quickly. "You can't see inside my brain. You don't know." My child hangs up. I can't call back. I will not talk with them for another week. I return to the book.
The next morning I get a call from their residence. The nurse shares the news, "Your child took a rock and bashed their hand last night. They refused pain medication. They finally took some this morning, but would not let me examine them. It's quite swollen. It could be broken." I imagine my child lasted as long as they could and they had to get out their anger, somehow.
I tell the nurse about the dropped phone call and the depressive state. I wonder how long after our call my child tried to make the emotional pain stop with the physical. Something they could at least see. A mark. An outward indication of the hurt. A vision of their reality.
I keep reading and by noon the character in my book has died. He's left clues for the people that he knows will miss him.
  "You make me happy.
  Whenever you're around I'm safe inside your smile." (p.375)
It's clear that he has not taken his life because of a lack of love.
It just became too much. I'm not sure it could have been stopped. Somehow I relate. It worries me.
All I can do is to try to put together the pieces I'm given.
* The author's child identifies as 'they/them.' The gender identity of the child is not the reason the child is in residential treatment.
If you want to learn more about this author's experiences and reflections, read these blogs:
9/27/17: The Teen Years: Residential Treatment is Filled with Hope
11/17/17: Family Weekend During Teen Treatment: We Are All In This Together
11/20/17: Family Weekend During Teen Treatment: New Communication Skills Take Shape
12/11/17: Relocate. Repair. Refocus. Required.
2/27/18: "I'm Not Going Anywhere…" When Teen Treatment Gets Messy
5/24/18: It's Fine
5/30/18: Nearly Normal
6/7/18: The Passage of Time
7/16/18: You Have to Work With What You Have
8/10/18: Healthy Teenage Boundaries – Taking Control
3/25/19 Parenting: I Would Like a Do Over
About the Author
The author lives in NYC and is the parent of two fascinating and engaging children, ages 15 and 12. An instructional leader at an elementary school, she has the privilege of spending her days supporting a wide-range of students and teachers.